TEXTALK in ITMA 2023 Italy: Three Prototype Machines Sold and Customers Attracted by TEXTALK Digital Printing Quality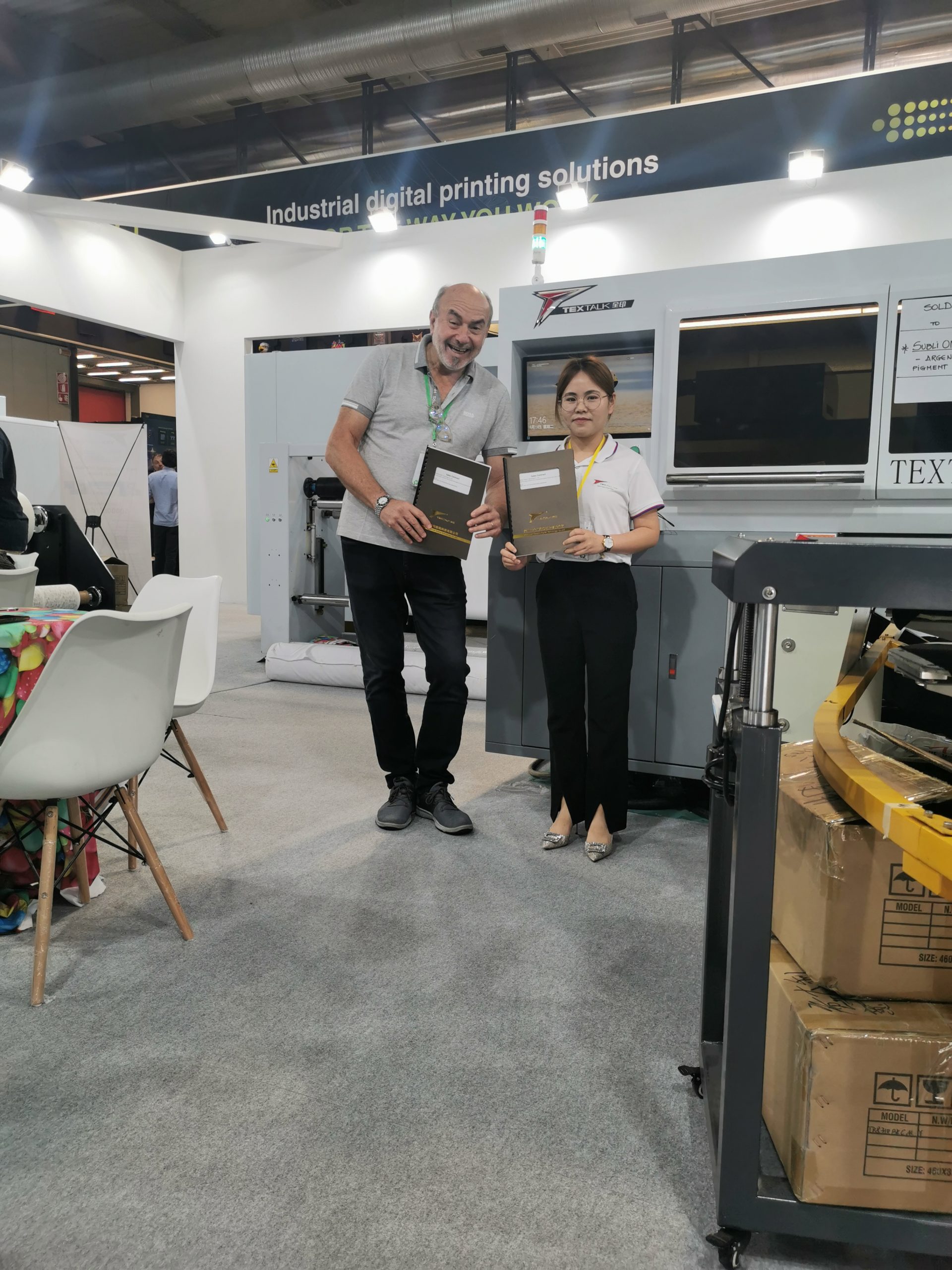 TEXTALK, a leading manufacturer of textile printing machinery, recently showcased its latest innovations at ITMA 2023 in Italy. The company's focus on digital printing machine research and development.Textalk products has attracted customers from around the world, leading to the sale of three prototype machines during the exhibition.
The TEXTALK booth at ITMA 2023 was a hub of activity, with visitors eager to see the latest advancements in textile printing technology. The company's digital white+digital CMYK printing solution for garments was a major draw, as it allows for greater precision, vivid colors, and the ability to print on a wider range of fabrics.
The three prototype machines sold at the exhibition were a testament to TEXTALK's commitment to innovation and customer satisfaction. The machines were designed to meet the specific needs of each customer, demonstrating the company's ability to customize its products to meet individual requirements.
In addition to the sale of prototype machines, TEXTALK also attracted a large number of potential customers interested in learning more about the company's advanced printing machines. Visitors were impressed by the vivid colors and intricate patterns produced by the machines, as well as the speed and efficiency with which they operated.
Overall, as the textile industry continues to evolve, TEXTALK is well-positioned to lead the way with its innovative and customizable printing solutions.We will keep going in the digital textile industry and provide the best service for our customers.
As the fashion industry continues to evolve, so does the technology behind it. One of the latest advancements is digital textile printing, which allows designers to create unique prints on fabrics using digital printers. One of the leading manufacturers of these digital textile printers is TEXTALK, known for their high-quality and affordable machines.
With digital textile printing, designers can create intricate patterns, bold graphics, and even photographic images with ease. This technology also allows for more sustainable production, as it reduces the amount of water, energy, and chemicals used in the printing process.
TEXTALK's digital textile printers are known for their reliability and precision, making them a popular choice among designers and manufacturers alike. Their machines offer high resolution and vibrant colors, ensuring that every design comes out exactly as intended. Plus, with their good prices, they are accessible to a wider range of businesses, from small start-ups to large-scale manufacturers.
In addition to being a game-changer for the fashion industry, digital textile printing also has applications in other industries, such as home decor and automotive design. As the technology continues to develop, we can expect to see even more creative and innovative uses for digital textile printing.
In conclusion, digital textile printing is revolutionizing the way we create and produce fashion. With TEXTALK's digital textile printers leading the way, designers and manufacturers can take advantage of this technology to bring their ideas to life with precision and affordability.